Dorset Down Sheep Breeders' Association
Dorset Down Sheep Annual Breed Sale Report
9th July 2022
New Breed Record
A blisteringly hot day at Sedgemoor Market for the Annual Sale of Dorset Down sheep saw a trade to equal the weather.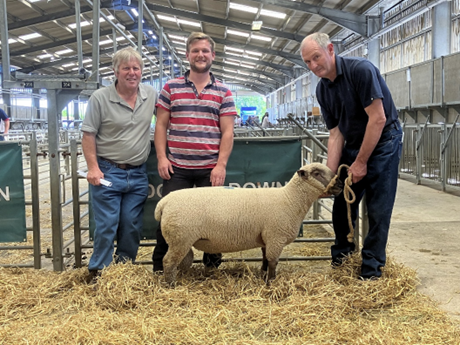 New Breed Record – Shearling Ram 1500 Gns bred by NJ Bond, Trefill, Cornwall
purchased by P Spurdle, Somerset
21 rams met fierce competition especially for James Bonds' (Trefill – Torpoint, Cornwall) shearling born January 2021, a Signet recorded son of a Littleton (Robert Harding) ram out of a home bred ewe capturing the attention of the crowd and the eye of the eventual buyer Peter Spurdle when the gavel fell at 1500gns (£1575). He now joins Peter's 60 ewes at Winsham, Chard.
Birthday boy, Harry Stamp, sold his two shearling rams at 500gns and 400gns. His pen of four ewes attracted a lot of interest topping out at 520gns for a smart ewe sired by a Bewley (WD Burrough & Sons) ram and out of a Lyndon Vale (Richard Wood) ewe purchased by Dr Jane McMinn (Calcot). Ewe lambs rose to 220gns for a Castle lamb from the Burton family, Worcester who are great supporters of the sale and celebrating their 20th year breeding Dorset Downs.
Averages:-
13 Shearling ewes av. £256
5 Ewe lambs av. £168
21 Rams av. £467
Auctioneers; Greenslade Taylor Hunt – Guest auctioneer: Andrew Lane MRICS FAAV
Download Breed Sale Report